 Clayton County
Commercial Beautification and Improvement
Grant Application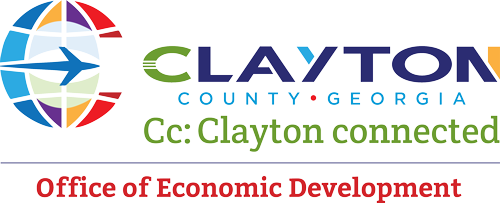 Clayton County Commercial Beautification and Improvement Grant Program/Guidelines
---
Grant Purpose
The Clayton County Office of Economic Development has allocated America Rescue Plan Act (ARPA) grant funds to the Commercial Beautification and Improvement Grant Program to assist owners of commercial property with repair, enhancement and improvement for commercial properties within Clayton County. The Clayton County Strategic Economic Development Plan specifies a need for beautification to attract new business and investment to Clayton County. The goal of this grant is to improve the overall attractiveness of high traffic corridors in Clayton County.
Grant Goals:
Promote a consistently high-quality commercial environment that will be attractive to residents and visitors
Promote retail to service activities and increase tenant occupancy within our shopping centers
Create an attractive environment where residents, visitors and business owners gain a sense of civic pride
Promoting additional improvements by the participants, and neighboring properties
Eligibility
The applicant must be up to date on all permits, taxes, and other fees.
Only one application and property per owner
The grant will only fund projects that improve the visual appearance of the property from the street or other public space.
Eligible improvements include:

Painting, including an exterior mural
Building surface repairs i.e. brick, siding, limestone, stucco etc.
Landscaping i.e. ornamental, decorative planters, flowerbeds etc.
Exterior Lighting/LED lighting
Windows, doors, framing, etc.
Signage, canopies, awnings, etc.
Gates, fencing, landscaping, etc.
Cosmetic repairs

Properties must be less than 75,000 SF
Outparcels are allowed
Eligible Applicants:
Applicants must meet the following eligibility requirements:
Property must be zoned for general business, mixed use, or commercial
Applicants must be in good standing with Clayton County on all tax property taxes
Shopping centers and commercial properties must have 50% or greater occupancy
Property owner must have been owned property prior to January 1, 2021
Ineligible Applicants include:
Properties that DO NOT QUALIFY: package stores, adult entertainment shops, gambling activities, gas stations, financial institutions, gun/weapon shops, religious institutions or public agencies.
Residential, Office or Industrial Properties.
Properties that are currently under contract, foreclosure or sale
Ineligible Repairs Include:
Interior improvements
Architectural design and planning services
Operations and inventory
HVAC, plumbing, and other system repair
Roof Repair
Construction Permit Fees
Commercial improvements expenses that were incurred prior to grant approval notification
Grant Timeline
| | |
| --- | --- |
| December 8, 2023 | INFORMATIONAL MEETING WITH PROPERTY OWNERS |
| December 8, 2023 | APPLICATIONS WILL OPEN |
| February 2, 2024 | Applications due |
| — | Applications are reviewed by the Clayton County Beautification Committee |
| March 2, 2024 | Award recipients will be notified |
| October 31, 2024 | All projects must be completed |
Funding Allocation
Eligible commercial property owners may apply for grants up to $75,000 that can be used for exterior improvements to their commercial property. This grant is intended for retail shopping centers, but other commercial properties may also qualify for funding. A match is required for eligibility. The match must be equal to or greater than 25% of the funds requested. The match may be in the form of proof of exterior improvements within the last 3 years or additional repairs outside of the funds requested.
Grant Application Process
Applications will be received by the Clayton County Office of Economic Development until February 2, 2024.
The completed applications will be reviewed by the Clayton County Beautification Committee.
The property owner will need to sign the articles of agreement for the county.
The property owner/applicant will submit invoices and photos of the projects to the Clayton County Office of Economic Development Grant Administrator. Checks will be made payable directly to contractors.
Projects will be need to be completed by October 31, 2024.
Application Scoring Criteria
The criteria to evaluate includes:
If the overall proposal advances the goals of improving the building's appearance.
The original condition of the building and the need for the proposed change.
The impact of the project on the street and in the neighborhood
Owner-occupied commercial buildings will be given preference in this application.
The quality of the proposed work
The project timeline
Duration of ownership.
Clayton County Residency
Clayton County recommended vendors/contractorsClayton County will not require property owners to select local contractors for the Commercial Beautification and Improvement Grant Program, but property owners are encouraged to select local Clayton County based contractors.A list of Clayton County based contractors can be found at Clayton County Central Services and Clayton County Chamber of Commerce. Clayton County shall have no liability for workmanship, design, or construction related to the project receiving grant funds under this program.

Clayton County Central Services SLBE/MWBE List
SLBE-MWBE MASTER VENDOR LIST 3-08-23.xlsx (claytoncountyga.gov)

Clayton County Water Authority Certified SLBE List
8_20_23_CCWA-LOS-Certified-SLBE.pdf

Clayton County Chamber of Commerce Business Directory:
https://www.claytonchamber.org/list
Grant Application
The application form is available online at: https://businessgrants.claytoncountyga.gov/
The application must be completed and include all the following items:
A description of the proposed improvement
Current photographs of the current facade/property to be improved and project renderings
Survey of the property or site plan
Proof of ownership (such as deed or tax records)
Proposed project timeline
Project Budget
Quotes/estimates for the proposed improvements supplied to the applicant by the contractor (minimum of two quotes)
List of existing tenants with lease expiration dates
Match Requirements

Invoices and proof of payment for property improvements within the last 3 years